SB Admin 2 Bootstrap Theme – Visual Studio 2017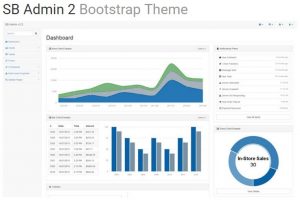 I have updated the SB Admin 2 theme to match with Visual Studio 2017 . I have also updated all the nuget packages related.
Features
SB Admin 2 Bootstrap admin theme, dashboard template, or webapp UI starter. The theme features a variety of custom jQuery plugins to add extended functionality past the built in Bootstrap UI features.
Live Preview :
https://blackrockdigital.github.io/startbootstrap-sb-admin-2/pages/index.html
Mode Details :
https://startbootstrap.com/template-overviews/sb-admin-2/
Download From GitHub:
https://github.com/haneefputtur/HaneefSBAdmin2